2009 Honda S2000 AP2
Platinum White Pearl on Black Interior
All stock except professionally upgraded
AM/FM stereo media player and alarm
system.
Factory Platinum White Pearl paint.
This color was never available in the USA
and was delivered in North America only on
the 2009 Canadian model.
There were a total of approximately seventy
2009 S2000's delivered to Canada.
White Pearl was one of six available colors.
Honda serviced - extended warranty valid until
November 2014.
65000 KM - 40000 Miles
This is my favorite vehicle and is not
actively for sale but I might be convinced
to part with it only to a good home.
If not, I will continue to enjoy this excellent
classic roadster.
$35000 USD Firm
email: bcmarina@shaw.ca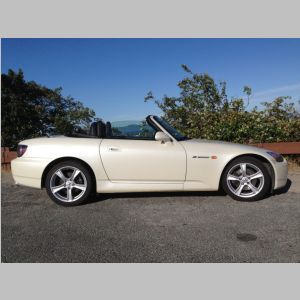 2009_Honda_S2000_Platinum_White_Pearl.jpg